Your Part in God's Great Work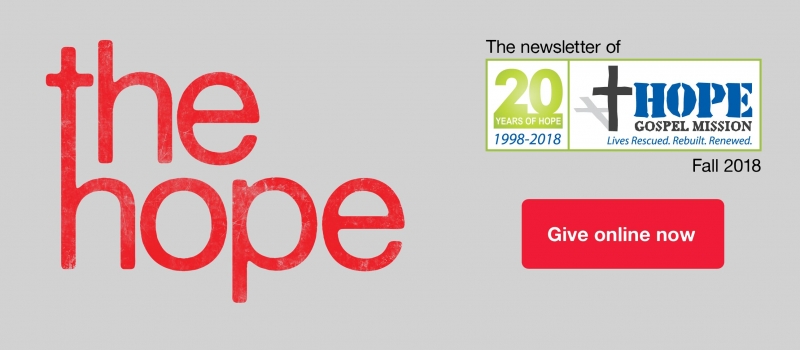 Dearest Friend and Supporter,
God has blessed us more than we dreamed possible. We see God's hand at work, growing and expanding this place in all kinds of ways.
All of us – our staff, volunteers and residents – sense God doing something great in our City. There is a freedom to love, laugh and serve that is contagious, especially for those who come here hurting from a hard life. They feel welcome and part of a community. They find it amazing that people in the community genuinely want to help them. That's so different from the harsh lives many have known.
No wonder our residents get caught up in the joy of this place. This is a place love built.
Some people come here with problems they cannot solve by themselves. Then they see the Gospel lived out and find themselves drawn closer to Jesus Christ.
The prayer of Hope Gospel Mission is for Jesus Christ to be lifted up, so all who come here are drawn to Him. He alone rescues from addiction and an empty life. We are delighted to say He is answering that prayer more than we ever imagined.
Thank you for your partnership. May God bless you more and more. His mercies are new every morning.
Sincerely

Sandi Polzin
Executive Director

On Sunday mornings, Clark would go to church. He sat there and liked it. He felt closer to the Lord. Then he would go back to walking the streets. He was homeless, living on the streets of Eau Claire.
He had become a Christian while in jail, back in 2010. Going to church was sweet for him. But his life wasn't changing. His faith was undeveloped. He spent most of his days alone on the streets, caught up in seeking out where his next meal would come from and where he would sleep that night. He had one friend for a while but was mostly alone after his friend was sent to jail. Clark suffers from a medical illness which left untreated can complicate relationships.
Nothing was changing for him. The police picked him up and put him in jail for a while and then released him. He stayed at a local homeless shelter, but that wasn't good for him. So he returned to the streets until the police picked him up again. That's how it went. For eight years.
Things hadn't always been bad. He grew up in Pennsylvania and graduated from high school with a 3.0. He married early and had a child. One day he discovered his wife cheating on him. The marriage ended and soon after Clark left his home for Wisconsin.
He came to Eau Claire to be with a friend, but that didn't work out. He was alone in a strange town and the years passed. Every day he walked past Hope Gospel Mission. People on the street said that wasn't the place to go. They had rules you had to follow. You couldn't get drunk or do drugs there.
Clark had started to abuse drugs after the break up of his marriage. He wasn't a heavy user, but he took the advice of the other street people and avoided coming to Hope Gospel Mission.

Then earlier this year his illness forced him into the hospital for a week. From there he called Hope Gospel Mission and came to fill out an application. The lady speaking to him said they were full ... but thankfully, the Lord provided an opening for him to stay.
One week later, Clark began staying at Hope.
He shares a room with three others. "We get along," says Clark. "We are all recovering from something."
In the mornings he studies the Scriptures and works on his other classes at the Solomon Learning Center. "There is so much about the Bible I never knew," he says. In the afternoon he attends vocational training at Hope Bargain Center, sorting and preparing donations and materials for customers to buy. It's been years since he's had a steady job. He likes working with Christian people and having something to do that is helpful.
The evenings are Clark's time to rest, watch some TV, and do his laundry. He knows he will have something to eat in the morning, afternoon and evening. He knows he has a bed that is safe and clean. No one will kick him while he sleeps or steal his things. He can rest and sleep. His medication is under control and his health is improving. He adds that Jesus and him are getting along just fine.
"He has answered every prayer — starting with space opening for me to stay."
Clark has committed to the Renewed Hope Program that will last 12 to 18 months. At the end, he will have an apartment, a job and a vehicle.
Recently Clark made a call to his mother in Pennsylvania. He told her he was staying at Hope Gospel Mission. For the first time in a long time, she felt her son, her only son, was in very good hands. She knew, at last, he was OK.
Without your support to care for people, like Clark, here at Hope Gospel Mission, he would most likely have continued to go downhill, with longer times in prison and his faith remaining undeveloped. Thank you for bringing hope to hurting people. You are serving the Lord by caring for those He loves.
Thank you.
Names and photos in stories may have been changed for privacy.

This year, Hope Gospel Mission is celebrating 20 years of hope and ministry. Throughout the year, we're going to use this newsletter to share how God has faithfully led the Mission through the last two decades and how we're trusting Him to carry us into the future.
This month, we talked with Craig Pedersen, our Operations Director, about the Hope Bargain Centers and Building Hope and how they impact the Mission and our Community.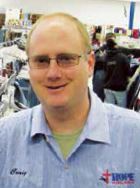 The Hope: Craig, what is your role at the Mission?
Craig Pedersen: I create and oversee the Mission businesses and facilities of Hope Gospel Mission.
TH: Tell us more about the Mission's businesses?
CP: We currently have 3 Hope Bargain Center locations: Eau Claire, Mondovi and our newest location Menomonie. We also have Building Hope, a building material and office furniture re-use center, located in Eau Claire.
TH: When did HGM open its Bargain Centers and Building Hope?
CP: The Eau Claire Hope Bargain Center, the Midwest's largest thrift store, opened in 2003, Building Hope in 2006, Mondovi in 2016 and Menomonie is opening September 2018.
TH: How do the Bargain Centers and Building Hope impact the Mission?
CP: The bargain centers are the most well known portion of Hope Gospel Mission. They provide funding for the life-changing programs we offer as well as administrative costs.
TH: How do the Bargain Centers and Building Hope help the residents at the Mission?
CP: They provide job training for our program participants. Many of our residents have large gaps in their employment history or need to regain confidence in their work ability. Job coaches work directly with each resident to help them become the best worker they can be.
TH: How do these Mission Businesses impact the community?
CP: They provide over $60,000 per year in free clothing and furniture to people in need. In addition, the stores recycle nearly a million pounds of clothing, cardboard, metal and other goods every year.
TH: What do you see in the future of the Mission Businesses?
CP: I see the need for Bargain Centers to continue growing as we expand services to include women with children and increase the number of men and women we serve. We hope to add 5 to 10 more stores within an hour or two of Eau Claire.
TH: Is there a moment that demonstrates the Lord's presence in your work?
CP: The moments when a resident experiences hope for their own recovery after years of giving up on themselves. And the moments when staff and volunteers really understand that HGM is much more of a call than just another job.
TH: How can community members support the Hope Bargain Centers and Building Hope?
CP: Supporting the Bargain Centers is easy! Whether you donate your gently used clothing and household items, shop for great deals, or volunteer your time and talents, you make a big difference. Your support allows us to reach men and women in our community with the hope of Christ.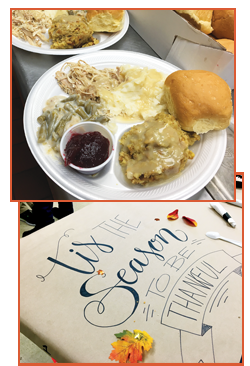 Food needed for the Thanksgiving Community Dinner:
Turkeys
Butter
Onions
Celery
Cans of sweet potatoes or yams
Cans of green beans
Cans of cranberry sauce
Cans of cream of mushroom soup
Chicken broth
Cans of fried onions
Pumpkin pies
This highlight event is where many in our community come together to give thanks and enjoy a delicious Thanksgiving meal. No one should be alone on Thanksgiving. Our doors are wide open to welcome all.
Preparations start the week before and continue until Thanksgiving day. Many volunteers come together and help make the day a success. If you would like to provide food, please take a look at the list on the side and drop off your items here, 8 South Farwell Street, Eau Claire. We also need many volunteers to help prepare food, tables and serve food. Thank you!
You are very much a part of blessing our community and especially those going through hard times.
If you are interested in volunteering to make this Thanksgiving a day to remember, please contact Linda Velie, Community Relations Coordinator, 715-491-0905 for more details.
Linda can also help you get connected with other Mission volunteer opportunities throughout the year.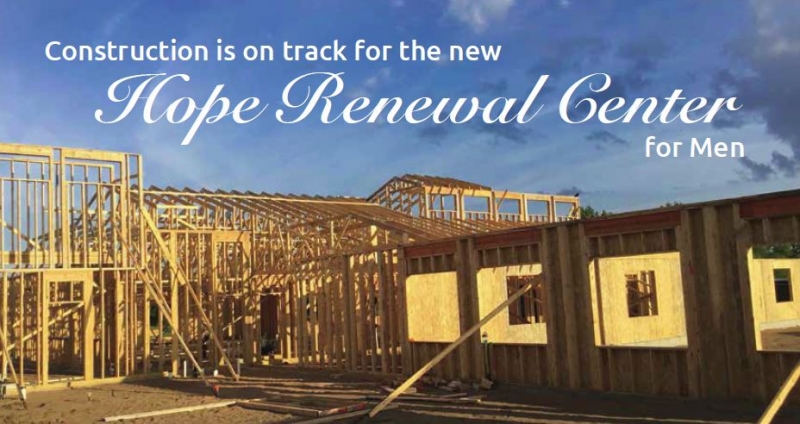 Milestone Reached
Construction for the Hope Renewal Center for Men began in May! Everything is going smoothly. Cement has been poured, walls are up and the roof is on. This new facility will be a vast improvement from our current facility. The new Hope Renewal Center for Men is projected to open in the spring of 2019.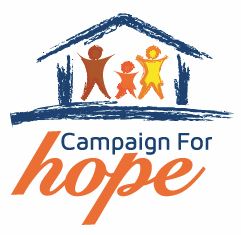 This is the largest expansion of the Mission since its opening 20 years ago. We are excited to be expanding services to include women with children and doubling the number of men we serve.
God is doing great things in our city.
Thank you for your great partnership in this ministry.
Together, we ARE accomplishing great things!