Drake's Story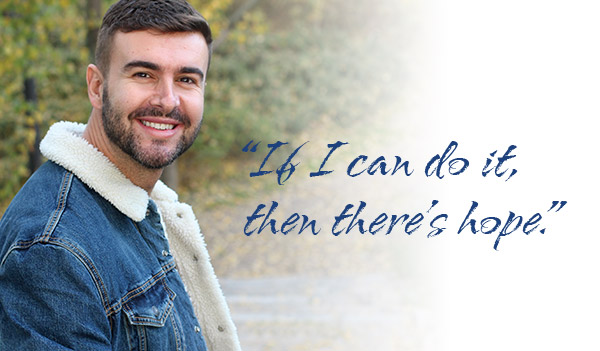 "If I can do it, then there's hope."
Drake became chemically dependent on hard drugs at the age of 13. For years he relied on a needle to get his fix.
By the age of 28, he had lost everything. His family lost all hope for him. They didn't know how to help him anymore, and he became homeless. He stayed in a shelter, going in and out of rehab. No one had hope for him.
One day, he heard about a friend whose life was transformed at Hope Gospel Mission. Everyone in Drake's life encouraged him to give it a try. He had spent so much time looking for a way out of his addiction and poor lifestyle choices. Nothing had worked, but he was willing to try.
When he walked through the doors, he didn't know what to expect. What came was nothing less than miraculous. By the grace of God, Drake has remained sober since that day.
Drake got connected with a great church and worked hard at recovery for a year and a half. He completed the Renewed Hope Program in July 2019.
"You learn a lot — from vocational to spiritual."
Drake is now reunited with his family. They are incredibly proud of him. Now, he strives to share his story with those in the same place he was two years ago. He is currently in the Discipleship Transitions Program, preparing to serve the Lord wherever God calls him.
Drake knows he is blessed. His powerful encounter with God set him free from addictions he thought were unbreakable.
The recovery programs provided free of charge at Hope Gospel Mission are a true expression of the generosity of friends who care. Thank you for that. You are part of giving new life to people held captive by addictions. They and their families thank you from the heart.
"Somehow, I feel like God eased me into the program and eased me out of the withdrawals and symptoms. It seemed abnormal, but I knew God was working."
*Names and photos in stories may have been changed for privacy.