Brian's Story


"I had wasted ten years of my life," Brian tells us. Those ten years, starting in his late teens, were a blur of drugs and alcohol that got him into trouble with his family and the law.

Knowing he needed help, he came to Hope Gospel Mission. When he completed the Short Stay Program, he thought he had everything under control ... but it didn't last.

"I fell back into all my old habits," Brian admits. "Before I knew it, I was breaking the law again." Six months later, the friend he was living with kicked him out. He had nowhere to go except back to Hope Gospel Mission.

This time, Brian made an investment in himself. He would go through the Renewed Hope Program: one year of his life to make up for the ten he had wasted.

"It was pretty amazing," Brian recalls. "There was a resident I'd known in the Short Stay Program who didn't have a great attitude. When I came back, he had completely changed, and I was excited to see that."

Brian soon experienced a transformation in his own life. He thought he had acted out because he was angry but realized he had been afraid of being unwanted and unloved. Now he knew God loved him unconditionally. "I had an emptiness in my heart only He could fill," he says.

Reconciled with God, Brian began repairing the relationships damaged by his years of addiction.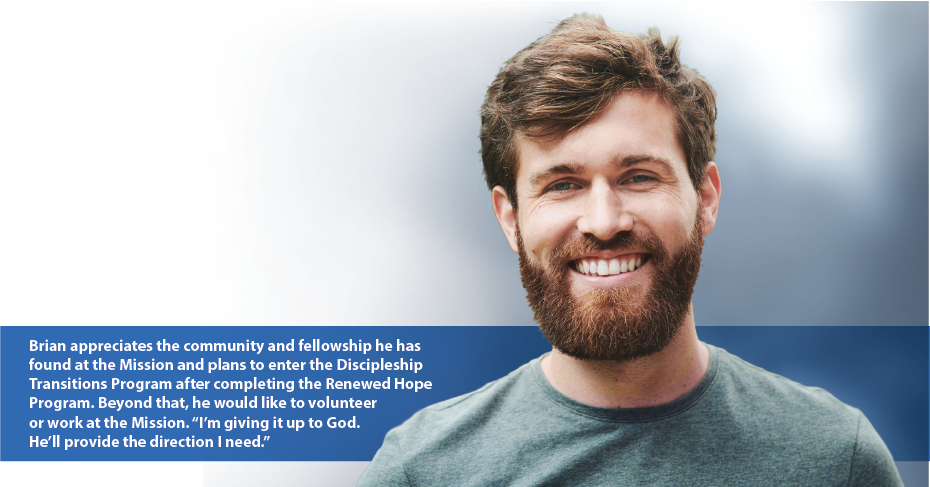 ---