November 2022 Newsletter

---

Dear Friend,

The classic poem "'Twas the Night before Christmas" is well known around the world.

At the Mission, we read it and look beyond a jolly Santa coming down the chimney with a bag of toys. We see the King, who came to a world which He loved deeper than we can fathom, bearing gifts of wonder beyond our imagination.

For those lonely and homeless, Christmas can be a difficult time. Few can celebrate the coming of the Lord, when like Him, they have nowhere to lay their head.

But there is comfort in knowing God himself experienced what it is like to be homeless, poor and rejected. Knowing and believing that God feels our suffering and cares makes the world a warmer place.

Most come here with no promise of a hopeful tomorrow. But your kind support this season gives a reason to celebrate, starting with a hot meal, a warm place to sleep, and a safe place to learn of the healing power of the newborn King.

Your gracious gift is a tangible demonstration of His love and the power of His love. It is because of your kindness that many of your neighbors in need will have a good Christmas night and many more!

Thank you for all you do to bring the light of Christmas to those who struggle in dark and difficult times. Thank you for caring.

Thank you, and may God bless you.

Sincerely,



Sandi Polzin
Executive Director
Hope Gospel Mission

---

The past year has been a struggle. Rising costs in rent, food and gas have made it especially hard for those struggling to put food on the table. We are thankful for your continued giving during a difficult year. Your faithfulness has provided nourishing meals, warm beds, safe shelter and so much more to every resident of the Mission.
Sharing the news of Christ's birth means so much every day, especially around the Christmas season. Families and friends gather for fellowship and rejoicing. It is a joyous, happy time!
It is also a lot of people to feed! Any donations you can give will help. God uses you to turn lonely and hurting people to Jesus where they receive peace and everlasting life.



---
By the time Kim graduated from high school, she was already the mother of a four-year-old son — but she went on to complete a year of college. "I beat the odds," she says proudly. Sadly, Kim's luck turned against her in the following years, leading to what she calls "a long road of misadventures."
Kim turned to drugs somewhere along that road. She also had another son. She took a detour and got sober for several months, but after the sudden death of a dear friend, her life spiraled out of control. "I lost everything," Kim recalls.
Homeless for a while, Kim eventually found an apartment near her younger son's father. "I let my guard down with him and picked up an even heavier drug habit — meth and heroin.I realized I had fallen down a deep hole and I couldn't get out." When she overdosed, Kim lost her son to foster care.
"I struggled to do whatever I could to get him back," Kim says. Staying with her aunt, Kim got sober and regained custody of her son — but she just couldn't see a way forward. "I wasn't going anywhere. How could I ensure some kind of security for my son? Living on my aunt's couch was not a good five-year plan."
God had a plan for Kim and her son: Hope Gospel Mission.
"I needed change and I needed help. I was willing to give up everything to find some peace and joy. When I came to Hope Gospel Mission, it felt right. It's a wonderful place."
Here, Kim found the stability she and her son needed. "We're safe. We have friends here." She tells us her son loves the childcare at the Mission. "I've never seen him happier. He feels so welcome and comfortable."
By this time next year, Kim hopes to be one of the first moms to complete the program. "I have a huge sense of hope that things can and will get better," she says.



---


Kevin lovingly cared for his mother and grandmother up to the time they moved to an assisted living facility. He stayed in the house and everything was going pretty well until the pandemic shut everything down in March 2020.
That was a dreary time for him all alone and isolated with no work to do. And that's when he made a big turn to alcohol, mostly just to pass the time.
He says "I'd been drinking since I was 16, but now it got excessive." In fact, it was so excessive his family intervened and took him to a hospital for detox. When he was admitted, Kevin's blood alcohol count was at a near-fatal level. He woke up from a medically induced coma confused and needing speech therapy. Forty-six days after being admitted, Kevin left the hospital, but his recovery was just beginning.
"My aunt wouldn't let me go back to the house by myself," Kevin tells us. "My family found Hope Gospel Mission, and I entered the long-term program in January 2021."
When he arrived at Hope Gospel, Kevin's grandmother had just died. Only a month into the program, he suffered another devastating loss when his mother passed away. "I was numb, in a deep depression," he recalls. "Trying to deal with my addiction after losing the two most important people in my life was very difficult."
But with the encouragement of staff and other family members, Kevin began to heal. "I felt like I was in the right place, doing the right thing. I knew God was with me every step of the way. That gave me peace when everything felt chaotic. It gave me the strength to be sober for the rest of my life."
Today, Kevin has been sober for two years. He is a proud program graduate with a good job, a nice place to live and a church home for spiritual support. In his younger years Kevin spent many years traveling across the U.S. and Europe, but now he is content to stay close to home and put down some roots now. "I just want a regular, stable life with no drama," he says.

---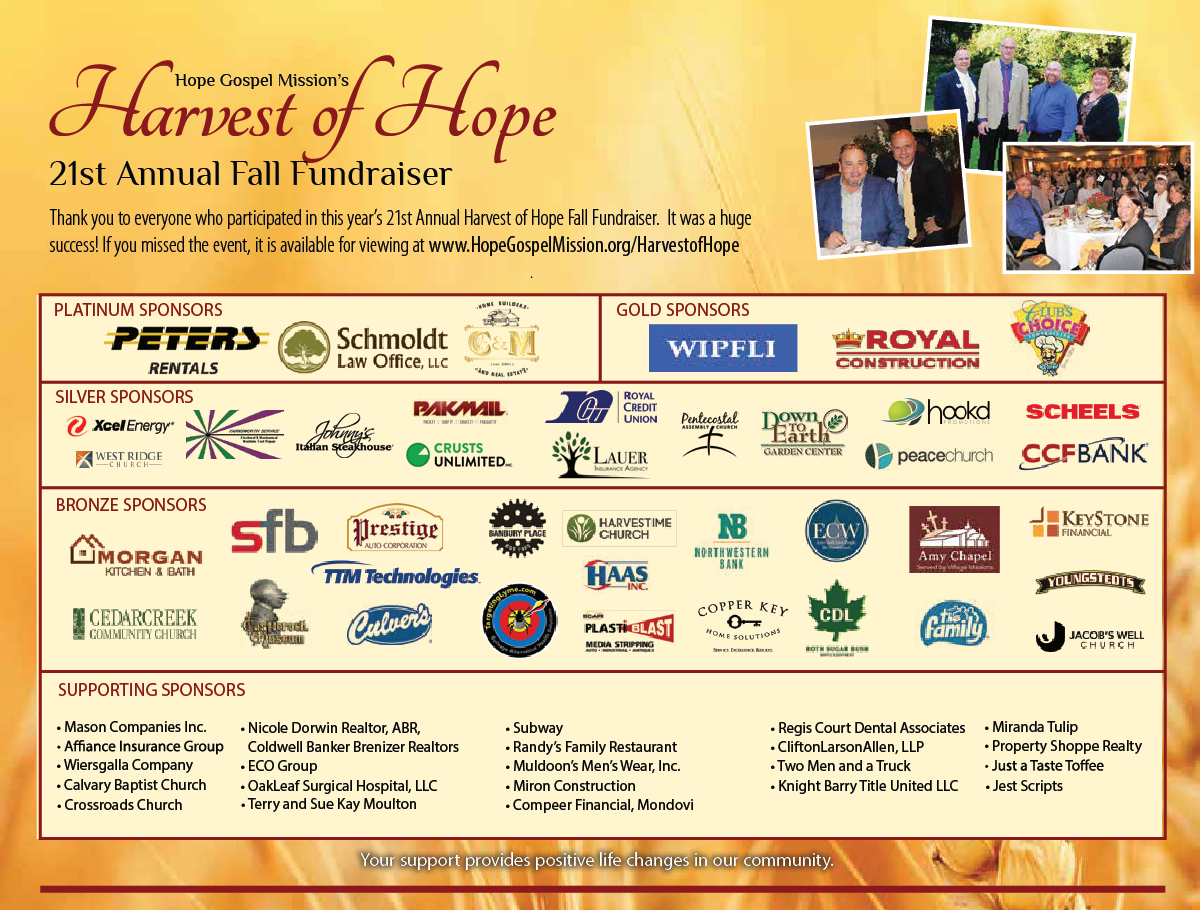 ---
Gifts Given in Memory

(Persons being honored are listed first)


Our Parents
James and Rita Sendelbach
Bernie Klimek

Mark and Roxy Campbell

Java Bergerson

Jane Bergerson


Jared P Zibolski
Betty Zibolski
Grandma Ecco
John and Jean Neira


Ernest & Mable Bekkum
John and Lori Bekkum
Kyle Christian
David and Carolyn Christian


Ray Wahl
James and Laura Wahl
Children, Grand Children and
Great-Grand Children


Ronald Farmer
Clarence Fitzsimmons
Richard and
Teresa Van Gelder

Gary Anderson
Ellen Anderson


Russ Minnich
Lois Minnich
Clarence Fitzsimmons

Mary Fitzsimmons


Marijo Ann Rader
Carla Miller
Jean Tremain
Donald and Caroline Schulze


Ronald H Tucker
Jeff and Wendy Tucker
Steven
Julie Gullikson


Douglas Mason
Wanda Lambert
John Johnson
Linda Johnson


Rosemary Olson
Arnold and Beverly Haugen
Anna Schultz
Phyllis Ede-Hovey


Judi Slagle
Betty Zibolski
Fred Turk
Jerry and Pamela Johnson
Douglas Mason
Christopher and Rebecca Bast
Judi Slagle
Betty Zibolski


Gerald Drehmel

Patti Boeve

Steven Curry
Betsy Spahiu


Douglas Mason
Cheryl Mason
Lois A Peterson
Louise Koxlien


Douglas Mason
Bill Larson
Robert Rongstad
Marceil Gunderson


Laura L King
Bret King
St Jude and Clemens Roter
Annette Roter


Gerald Drehmel
Marjory Shong
Richard David Sullivan
Allen and Wanda Skroch


Douglas Mason

Sandra and James Casetta

Beatrice Schuh

Larry and Maria Schuh


Ronald H Tucker
Jeff and Wendy Tucker
Judi Slagle
Betty Zibolski


Richard David Sullivan

Bob and Jan Sloan

Ellis Stearns and Bob Pickhardt
Richard and
Teresa Van Gelder


Lenny Drescher, Margaret Hudson,
Lori Olson, and Bob Krumenauer.
Richard and Teresa Van Gelder
Jean Tremain
Donald and Caroline Schulze


Gerald Drehmel
Dr. Sunday Olatunji
Ronald H Tucker
Jeff and Wendy Tucker


Richard David Sullivan
Rita Veitch
Joan Weider
Mary Weider


Roderick S Stenzel

Florence Erickson
Max Reidt
Bill and Jane
Maule


Edward G Gamroth, My Dad

Lynn and Jeff Ruhland
Charles Vollendorf
Curtis and Kathryn
Castleberg
Gail Schulner
Imogene Christopherson