Winter Newsletter 2023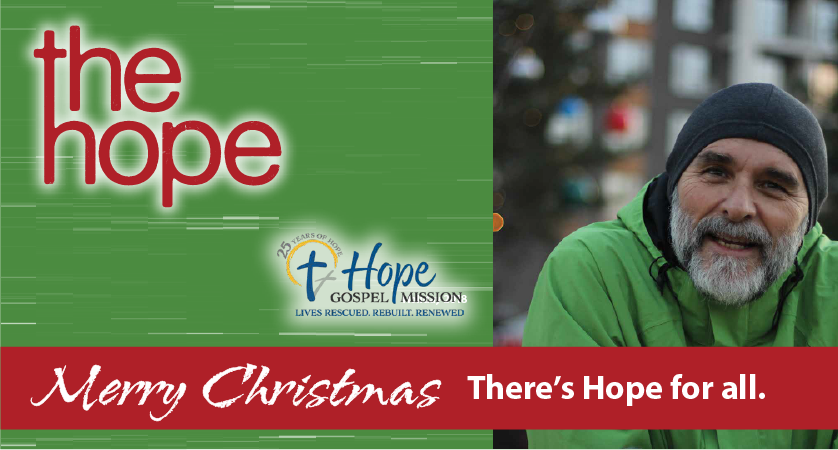 ---


Dear Friend,

As we prepare for the Christmas season here at Hope Gospel Mission, I find myself looking forward to my favorite Christmas traditions.

Singing "O Holy Night" in a candlelight worship service is one of the best. Then joyful Christmas times at home with family always bring delight. Here at Hope Gospel Mission, we look forward to sharing the joy of our Savior's birth.

We know our residents have been through hard times. Many have not felt peace and joy in a long time and are searching for a light in the darkness.

With your support, Hope Gospel Mission offers hope to those coming here. Many searched for happiness all their life and came up short. They need Jesus to add meaning to their life and only He can provide this gift.

Our God created the galaxies by speaking them into existence. Then He became a man. Looking at Jesus, we see the beauty of God. We tell our residents to look at Jesus and see the mercy and salvation He offers.

Jesus is the light of the world. We pray all here will see more of His glory this Christmas season.

May He bless you likewise. Merry Christmas!

Sincerely,



Sandi Polzin
Executive Director
Hope Gospel Mission

---

There are turning points in all our lives, some bad, some good. Miguel recalls two turning points that sent him deeper into his drinking. The first was witnessing the death of his father, killed by a relative in 2010. The second was his divorce in 2018.
Miguel knew his drinking was a major factor in the divorce. "My wife got fed up with my anger toward her and the kids," he admits.
Immediately following the divorce, Miguel decided to address his addiction. He went to rehab for 60 days, but the results were as shortlived as the program.
Thinking a change of venue would help, Miguel went to Mexico, where his family owned a house. Being on his own, though, proved disastrous. His drinking left him in a coma for three days. He returned to Milwaukee and tried another program, with little success.
Miguel was still drinking, still unhappy and soon, he was homeless. Then there was a third turning point in Miguel's life, this time a positive one. A friend told him about Hope Gospel Mission.
Last August, Miguel started the recovery program. Everything went well until his mother passed away in December. Miguel went home and started drinking again. He knew he had toreturn to the program but had to wait 30 days and start over.
"It was the longest 30 days of my life," Miguel recalls. "But I'm blessed to be here. I want to continue getting better, instead of reaching the bottom again. And that's what I'm doing right now."
Miguel is back in touch with his family. In fact, his ex-wife is one of his biggest supporters, praying for him and emailing scripture every day.



"Changing is hard," Miguel says, "but I've given myself over to Christ. I'm definitely going in a different direction."
Asked what he is most grateful for this Christmas, Miguel says, "I'm just thankful for being here. I'm in a safe place, and I thank God for that. I'm moving toward my goal, which is to become a new person."
Thank you for giving that opportunity to Miguel and everyone at Hope Gospel Mission!
---

Christmas will soon be here, and all of us at Hope Gospel Mission are eager to begin preparations. The annual Christmas Community Dinner is a grand meal of ham with all the fixings and dessert. Our doors are open to everyone in need of a good meal and a warm welcome.



Men, women and children come here with many different needs. Some have jobs but there is not enough to put food on the table. Others lost their homes and there is nowhere for them to turn to. Some are battling addictions. Everyone has a different reason for coming to Hope Gospel Mission, but they are all welcomed the same ... with respect and compassion.
Sharing the joy of our Savior's birth means so much, especially around the Christmas season. Joyful carols fill the chapel and praise is given to our Lord who gave everything for us. People are hurting, but they find comfort in Jesus' embrace.
Providing a hot, delicious meal shows the compassion Jesus has for all His children. Supporting Hope Gospel Mission helps fill the plates and offer the help people are seeking — whether it is a meal, a prayer or a place to heal.


---

Mark and Cindy both have a passion for helping those in need. "In the fall of 1993, my pastor challenged me about what I wanted to do for the Lord," Mark explains. "I shared with him my desire to help those less fortunate but wasn't sure how to do it. Since he had served in several different rescue missions over the years, he gave me the book, "The Romance of Rescue," which details the history of the rescue mission movement in America. At that point, I felt this was something that God wanted me to get involved in."
A nearby building started to lay on Mark's heart and God told him this building was meant to be used as a Mission. The building was not for sale, so for five years, Mark and Cindy waited and prayed for this building. Finally, it became available, and the couple quickly took the opportunity.
Hope Gospel Mission received its name from Cindy. "The only hope we have is in Christ Jesus our Lord," she says. "Hope needs to be in all aspects of our lives. I knew then the name should be Hope Gospel Mission."
Through the years, Hope Gospel Mission grew consistently. The number of residents increases year over year. Mark explains, "God has put it on our hearts to help the homeless and hurting. Today, the need to expand is upon us."
The new Hope Learning Center is the latest expansion. It began in October. When finished, there will be enough room, computer space and study centers for both residents and staff.
"We offer the environment for people to find Jesus and the support they need to change," Mark says. "We are trusting God to provide, and He is with us every step of the way!"
Mark and Cindy inspire everyone here. Their passion to follow the Lord radiates through the halls. "After 25 years of ministry, we look around in awe of what God has done with Hope Gospel Mission," says Cindy. "It is a blessing to serve the community. The Holy Spirit does amazing work!"
As founders, the couple is deeply thankful for your partnership in Hope Gospel Mission. Mark says, "Thank you for supporting us throughout the years, it is really making a difference in the lives of the men, women and children here. Also, thank you to the staff and volunteers who are the hands and feet of Hope Gospel Mission."
Cindy also sends her gratitude: "Community support is so essential. The donors are beautiful. They come alongside us and work to help those who are hurting. We are so thankful!"



---

Thank you to everyone who participated in this year's Annual Harvest of Hope Fall Fundraiser. The Luncheon and Dinner were a huge success!
If you missed the event, it is available for viewing at www.HopeGospelMission.org/HarvestofHope.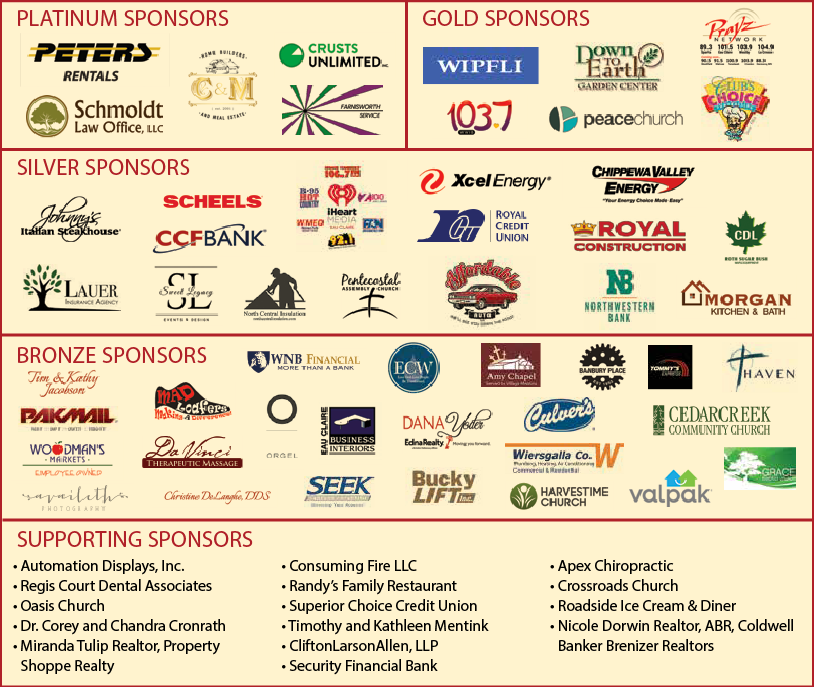 ---
Gifts Given in Memory

(Persons being honored are listed first)


| | | | |
| --- | --- | --- | --- |
| Jim Holte | Scott and Kathy Krieger | Steve Mooney | Kris Steiner |
| Ed Brown | Tom and Darcy Gartzke | Delores M Joten | Louise Koxlien |
| Steve Kouba | Mike and JoAnn Russell | Richard E Zinsli | Bonnie Zinsli |
| Victor Sorenson | Darla Sorenson | Marlo Orth | Richard Ziemann |
| Roger Ploeger | Kathleen Ploeger | Family | Jane Larsen |
| Joe Schmitt | Patrick and Jeanine Quinnell | James and Steve | James and Deborah Stiner |
| James Sendelbach | Rita Sendelbach | Dorothy Walters | John Walters |
| Margo Goss | Marigold Quilt Shop LLC | Irvin G Schultz, Jr. | Carin Schultz |
| Rodney Woodruff | Kevin and Sharon Severson | Robert Carr | Mary Gustafson |
| Roy W Mayberry | Toni Mayberry | Celia and Balser Mattern | Roselyn Persons |
| Betty Jackson | Beth Cripe | James Sendelbach | Rita Sendelbach |
| William B Kelly | Teresa Helgeson | Millard, Shirley and Danne Sivertson | Robyn Sivertson |
| James Dewar | James and Lorraine Dewar | Stacy Bohl | Robin and Randy Bohl |
| Ronald Porter | Mr and Mrs Howard Hanson | James Schulze | Donald and Caroline Schulze |
| Frank Kneer | David and Jan Kneer | Keith Daniels | Mary Daniels |
| Rodney Woodruff | Jenny Woodruff | Bill Kelly | Deer Run Condominiums |
| David Boyce, Jr. | David and Pansy Boyce | Willard (Bill) Johnson | Greg and Rexann Brew |
| Dale R Fizel | Robert Fizel | | |