February Newsletter 2023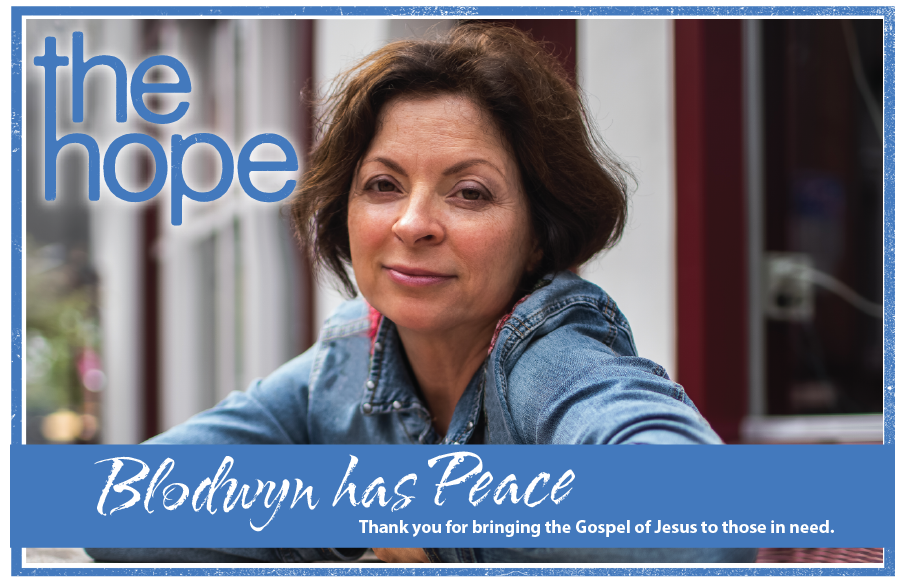 ---

Dear Friend,

I have a confession: I did not make a New Year's resolution for 2023. Over the years, I learned resolutions rarely last more than a month or two before we forget them.

That's why I advise the men and women at Hope Gospel Mission to forget about New Year's resolutions altogether and set goals instead — not just on the first of the year, but for every day, week, month and year and all the way home to heaven. I like to see each day as a gift from God to enjoy as I focus on the work He gives me to do.

I expect our residents will achieve what they set out to do. They already accomplish so much during their time here with us. Many wise and caring people want to help them move forward, including you. I'm sure we'll see much fruit coming from these Godly people.

You are part of their success. And not just for them, but for their future generations to come. You also gave our residents the resources they needed to look ahead and visualize a brighter future for themselves and their families. These are wonderful gifts. Thank you!

So, if you didn't make a New Year's resolution — or have already abandoned it — don't feel bad. My best thought is to enjoy the day God has given us and look forward to our bright and beautiful future.

Thank you, and may God bless you.

Sincerely,



Sandi Polzin
Executive Director
Hope Gospel Mission


---

Blodwyn's family hid a dark secret. Her father had been molesting her and her younger siblings since they were infants. Feeling she had no one to turn to, Blodwyn attempted suicide when she was only eight years old. She says today that God saved her life, but the abuse continued until she ran away to New York City at 14. Her new life, however, held a different kind of abuse. A victim of sex trafficking, Blodwyn was forced to sell her body. She also became addicted to heroin which only fueled her attempts of suicide.
Two years later, an officer of the Salvation Army offered her coffee and a piece of pie at a local diner. She spoke to her about Jesus in a way she had never heard before. Convinced by her kindness, Blodwyn accepted money for a bus ticket home and left that very night, with just the clothes on her back.
Blodwyn graduated from high school and college. She moved to California, started working and got married. It seemed she had finally escaped the cycle of abuse and hardship in her life. Then her husband died in a tragic accident just six weeks after their elopement. Overcome with grief, Blodwyn began drinking and doing drugs.
Later that year, in her grief, Blodwyn married again to an abusive alcoholic which prompted her to join AA. In the meetings, she thrived. She divorced her second husband due to abuse, neglect and unfaithfulness. She met her third husband in AA and gave birth to two children.
Unfortunately, her husband did not stay sober and in his alcoholism, he became abusive and unfaithful. She divorced him and started raising her family on her own, even though suicide was still taunting her every day.
The years that followed were difficult ones for the newly sober mother. She married again ... and was widowed again. Still, she maintained her sobriety. Unfortunately, her attempts at suicide continued.
Years later, Blodwyn married for the fifth time. At first, everything was looking up. Then COVID hit and Blodwyn lost both her jobs. Her marriage also ended when her husband filed for divorce.
These events finally broke Blodwyn. And after more than 30 years, she began drinking again. Disappointed in herself and filled with despair, she tried to commit suicide yet again. As He had when she was just a child, God was there to intervene once more. Blodwyn's daughter then invited her to come live with her in Wisconsin. Knowing she needed big changes in her life, Blodwyn agreed.
Her daughter had never known Blodwyn as an alcoholic and was shocked to see this new behavior. A friend of hers recommended Hope Gospel Mission. Blodwyn went to the intake interview, certain they would deem her unacceptable. But she was accepted on the spot and welcomed with open arms.
With suicide still heavy on Blodwyn's mind, she entered Hope Gospel Mission. In time, she received some peace from these dark thoughts. She was ready to heal. "When I started to experience the break from my suicidal thoughts, I knew I had to rewire my brain. I had to change my way of thinking."
Blodwyn worked with her renewal counselor to develop a personalized plan tailored to meet her specific needs. One that would help her heal and bring her life back together as an older, educated adult.
"Hope Gospel Mission does not take a cookie-cutter approach to recovery. They really care about each individual and make renewal plans that reflect each person."

Blodwyn is now ready for her graduation and plans on using the discipleship program. This will allow her to continue living on-site. This is a comfort to her as she has a place close to her Hope Gospel family. She has already been given a job offer to teach computer usage to senior citizens.
A firm believer in healing, Blodywyn wants to share her story with those who may have been abused or feel suicidal. Suicide has plagued her entire life, and it is her hope that her story will give strength to even just one person.
Blodwyn is also clear about her passion for you and everyone who contributes to Hope Gospel Mission. "Thank you for saving my life. Your donations and volunteer hours saved me. If I hadn't surrendered to God and Hope Gospel Mission's programs, I would be dead. People can get help and hope here."
---

It was a wonderful feeling to have the ribbon cut at the Grand Opening of the new Short Stay Expansion Project at the Hope Renewal Center for Men. Thanks to friends like you, we now have doubled the living space of the short-stay area increasing our capacity from 12 to 24 men.
Also new to the expanded area is a new modular bed system. This allows easy and safe top bed access with stairs and hand railings. It also offers improved privacy with a restful and dignified sleeping arrangement.
The Short Stay Program really does allow a change in people's lives. It gives them time to get back on their feet, find work, secure long-term safe housing, and create a workable budget.

UPDATE: Bed Sponsorship Opportunity
Hope Gospel Mission has a bed sponsorship opportunity for those who may desire to honor or remember a loved one who has struggled with addiction. This opportunity will provide safe, warm beds to help countless individuals struggling with addiction, now and in the future.
A bed sponsorship of $2,000 includes the cost of one bed, mattress, and bedding. A total of 24 beds are available for sponsorship. Sponsors and/or the person being honored or remembered will receive name recognition on a donor plaque that will be displayed on a wall in the newly expanded sleeping area.

Learn more here: https://www.hopegospelmission.org/shortstayexpansion/
---
Short-Term Needs, Long-Term Change.

James is a wonderful success story of the Short Stay Program. He is a recent graduate who has turned his life around, thanks to your faithful support!

James came to Hope Gospel with no money and no idea how to make or save it. He was living in a motel and realized he had nowhere else to turn. His life was spent meandering from place to place, and he was ready to make a change.

When he arrived at the Mission, he began the Short Stay program and classes. It took time to change his lifelong habits, and relearn new ones. He dug in hard and learned that a carefree lifestyle was no way to live life.

Today, James is thriving in his new life and speaking to others about his Short Stay experience.

"Hope Gospel Mission really opened me up! The Bible studies and the structure helped me become a born-again Christian. I am thankful for the staff here. Everyone here is so nice and welcoming!"

Thank you for caring about people like James. With your kindness, the love of our Lord Jesus Christ can reach so many more in need. You really have made a difference in their lives, and now that number will continue to grow!
---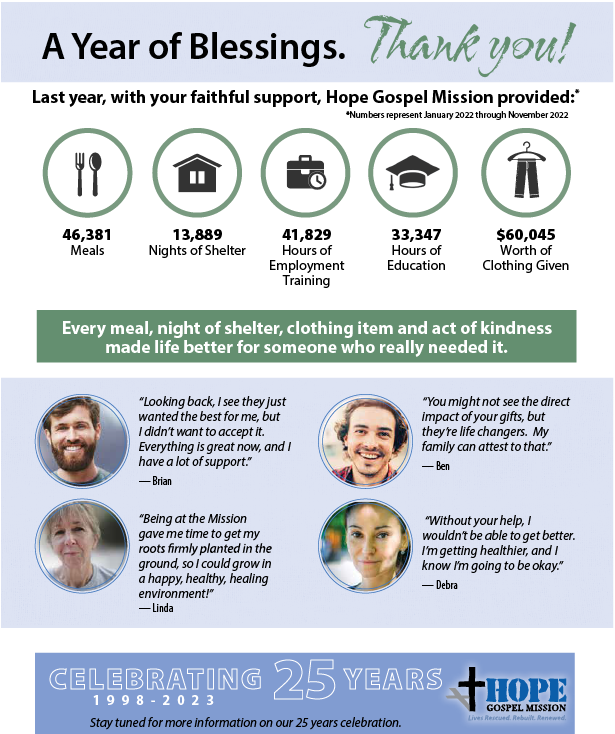 ---
Gifts Given in Memory

(Persons being honored are listed first)



| | | | |
| --- | --- | --- | --- |
| Our grandmother | Cole and Emily Parkins | Judy and Dick Fulmer, Richard Tetzlaff, Neal Larsen, Jennifer Hanson and Jane Hasslinger | James and Cathy Larsen |
| Cindy Buzby and Stacy Buzby-Knowlton | Robert Buzby | Tara and Tracy Ternberg | Anthony Nied |
| Henry Bosman, Jr. | Carl and Jean Cronquest | Andres Chaparro, Sr | Zaida and Jose Ortiz |
| Henry Bosman, Jr. | Terri Aaron | Frank Keeler, Jr | Jeffrey Heinzen |
| Sharon Braunberg | Mr and Mrs Howard Hanson | Vicky Spalding | John Spalding |
| Erma and Edna Hazel | Andy McGrane | Jan Bradison | Louise Koxlien |
| Lois Djock | Charles Djock | Carl and Mary Thompson | Debra Abbott |
| Philip Manor | Perry and Vranna Manor | Raymond and Marcella Westphal | Bruce and Marilyn Westphal |
| My granddaughters, Sierra, Rachel, Amelia, and Avery | Arlene Wood | Scott L Harris | Pam Harris |
| James Meyers | David Meyers and Catherine O'link Meyers | Rachel Richardson | Nathan Spate |
| Tyler Robinson | Brett and Becky Geboy | Roy W Mayberry | Toni Mayberry |
| Kim and Julie Koepl | Terra Loiselle | Our Parents | James and Valerie Fedie |
| Tyler Robinson | Terry and Linda Geboy | Danne Sivertson | Robyn Sivertson |
| Rollo Tabura | Donald and Caroline Schulze | Kyle H | Michael and Barbara Helgeson |
| Tyler Robinson | Linda Rojas | Vicky Spalding | John Spalding |
| Tyler Robinson | Eliazar and Tami Alfaro | Pat Kolar | Joseph Baiocco |
| CJ Robinson and Lynne Farmer | Justin and Heather Knutesen | Jeanne Farmer | Ronald Farmer |
| Joyce Larson and Verne Monson | Vern and Becky Larson | Joe Lokrantz | Becky Lokrantz |
| Duane Kilde | Dale and Janice Albricht | Rich James and MIke Walker | Richard and Teresa Van Gelder |
| Clarence Fitzsimmons | Mary Fitzsimmons | Dean Decker | Ronald Decker |
| Maddy Butterworth | Matthew and Jennifer Bittner | Jordan Lee Tucker | Jeff and Wendy Tucker |
| Gordon and Lorraine | Gary Hillestad | Sue Robinson Harmes | Keel Harmes |
| Janet Halvorson | Gregory and Dorothy Plantz | John David Schreindl | Rachel Bredl-Hryndej |
| Bernice Gessner | Allen Gessner | Donald R Burns | Sharree Burns |
| Richard Sahm | Joyce Sahm | Kayla C | Linda Skoug |
| Debbie Konkel | Carolyn Hathaway | Tim Johnson | David and Marilynn Johnson |
| Arlen Wisemiller - My husband | Betty Wisemiller | Elizabeth - Chetek | Christene Thompson |
| Ronald H Tucker | Jeff and Wendy Tucker | LeRoy Week, Sr. | Kathy Week |
| George Szotkowski | Thrivent Financial | Neil Olson | Dale and Janice Albricht |
| Faith Thoele | Norbert Thoele | Dale R Fizel | Robert Fizel |
| Thomas Zimmerman | Doris Zimmerman | Kyle Laramy | Ann Laramy |
| James Sendelbach | Rita Sendelbach | Dawn Larson | Harold and Brenda Larson |
| Jim Coleman | Neil Hemenway | Al Ross | Nanette and Ivar Lunde |
| Larry Gilmartin | Kevin Gilmartin | Frank Maes family | Anonymous |
| Ross Gjerning | Patrice Gjerning | Cindy Buzby and Stacy Buzby-Knowlton | Robert Buzby |